A photo booth will draw attention to your booth at a trade show and give you a chance to interact with attendees.
If you are hosting the event it is a great way to engage your customers and learn more about them and their needs.

Business photo booth rental
Contest Mode: Using a booth sessions to offer gifts will have more use than just a printing booth. Our software can randomly pick winners or you can secretly choose winners yourself. The winner can then get a special printout while lights or sounds are going off to draw attention to the booth. This is an excellent choice for Vegas themed events.
Videos, boomerang videos, and GIFs Videos and GIF animations are a popular part of the youthful culture. Your guests can share them via email or text message.
Once it's on their phone it can go anywhere they socialize and it will be shared many times along with your business information.
MOSAICS - For large or long events mosaics are available. These will be attention getters at later events. Click on the image to open a new window to see a larger image and learn more about our mosaic options..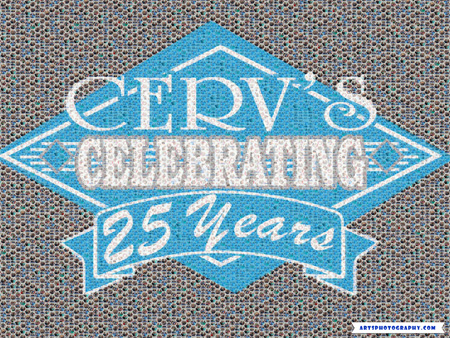 Choose Their Favorite Photo - Allowing people to pick and print their favorite photo from a session makes the booth even more fun. This feature is available for single image print layouts. The booth can take 3 or 4 photos and then the visitor picks the "best pose". This feature will be a big hit at formal events such as dances, black tie affairs and is recommended for single photo print templates.
This can also be used for group photos.
---
Customize printouts based upon customer response to a Quiz or Survey Once the quiz or surveys the software can print a special picture which is based upon their responses. This is an awesome way to print coupons.
Themed Props If you want the photo booth props to reflect your business brand or products we can help locate them for you or we can print custom signs for the visitors to hold.
This adds to the uniqueness of your booth or event and makes the photographs truly unique.

Custom Graphics What they see on the computer screen will be customized for the event. This gives you a marketing tool for subtle impressions of your brand or specific products.
We can even give the specifications to your graphics people and let them design each screen themselves.
Business Event Packages
Many of these features take a lot of time to customize and setup. Business events are often offered on a quote basis only.
Please contact us to discuss your event.
We are not just a Wichita based company. "Kansas" is a part of our name and we have been a part of events in cities such as Dodge City, Hays, Salina, Kansas City and probably even your town.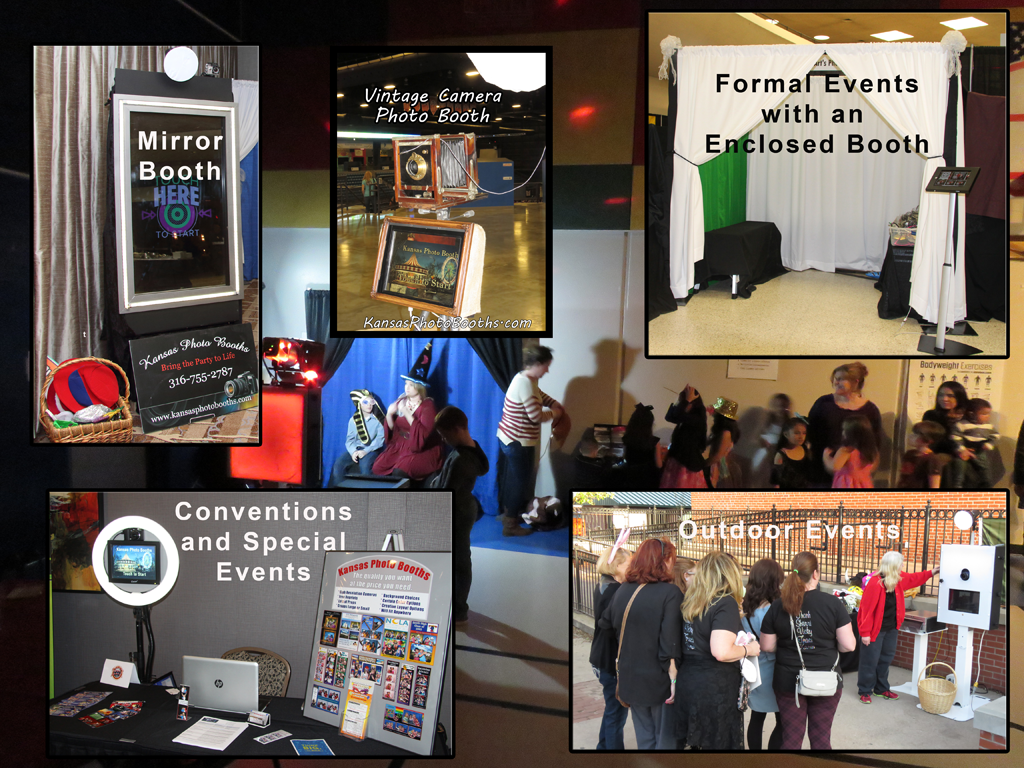 Social Media Only
Social media only rentals take up less space and the images will likely be seen on-line which increases the number of impressions for your business.
$400 for two Days and
$65 a day after the first two days
Printing Photo Booths and Social Media
These are our full service booths. We will train you on booth usage and your staff can run the booth.
$700 for two Days
$100 a day after the first two days
Three Hour Photo Booth Rental
If your event is a party and you do not need a full day our printing full service open air style booths are $450 for three hours. This includes an attendant 2x6 printing and social media as well as slide show options. Additional hours are $75 an hour You can upgrade to 4x6 prints for $50. This size allows more room for business promotion and specials.
Three Hour UN-attended Photo Booth
Our ring light booth is designed to work at conventions and smaller spaces. It is also intended to be a self operated photo booth. Like all of our booths it has a lot of configuration options and we are happy to work with you.
$225 for up to 6 hours without printing.
Add printing for $20 an hour .

---
---
---
Event Photography Services
We offer event photography of all kinds, This includes instant portraits, or pop-up studios, as well as group photography with on-site printing up to 8x12. For more information we recommend that you visit Art's Photography or Wichita Event Photography. Contact Us
Specials and Discounts
We offer military discounts and discounts to schools and charities. Whenever possible we will work with charitable organizations and good causes to help support the Wichita community. Learn More
Booth Planning
A photo booth for a wedding will be different than a graduation or birthday party. We will work with you to custom design a package. You are welcome to meet with us in Wichita to plan your package. Contact Us