Booth Rental Specials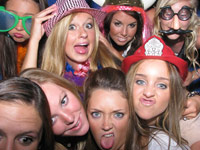 If another photo booth company can match our features and still offer a better price we will work to find a way to up the bar. Our booths use high speed printers, digital cameras, and studio style lighting for maximum quality. Our standard and deluxe booths do not use cheap web-cams or weak lighting just to make our jobs easier. Our printers are high speed and are the industry standards. When we bring a background to your event it will be of professional quality and we will work to keep it looking neat.

When we say that quality is our standard we mean it. Everyone on the team cares about our event..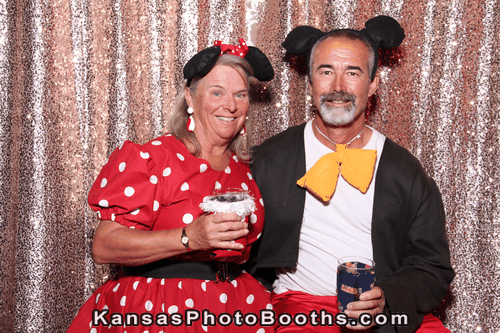 If your event is smaller or on a date when we only have a couple of booths rented we may be able to work with you for a discount. If you are wanting something different for online presence we offer both animated gifs and short videos clips. If you booth is for a business we can add logos or special graphics to help brand the images for your own use.

The best thing you can do is to contact us to learn about everything we have to offer.
Current SpecialProms and After-Proms
Kids LOVE a photo booth and we work to make ours a lot of fun for the kids. All of our packages include:
* Unlimited sessions and everyone in the photo receives a copy
* Choice of colorful backgrounds or green screen
* Email or texting in a 6x4 format
* Customized signs for school mascots or themes
* Vertical camera orientation for proms
* Early setup available
* Lots of props
Prom photo booth packages have our most elegant backgrounds, side curtains, and when there is space we like to use our studio lighting. Our preferred print size is 6x4 which allows us to print large images in a vertical or horizontal format. This allows us to capture the clothing for couples and still accommodate groups.
Prom Packages:
2 hours $385 with an attendant
3 hours $420 with an attendant
After-prom packages are more casual and are typically printed as 2x6 strips.
3 hours $325 with an attendant
3 hours $275 if you operate the booth

For other time frames please contact us.
Company Picnics and Family Reunions
Yes, our photo booths can be used outside.
Summer is the time for enjoying the outdoors and Kansas has lot of fun locations. Our outdoor photo booths will be a big hit for your guests. We will work with you to make sure it is placed in a good location. We will need to make sure we have accounted for outside challenges such as wind, sun, and proximity to the guests and electricity. No electricity? No problem, we have solutions for that as well.
The best thing to do is to contact us so we can plan a package and an approach for your unique event. Two hour outdoor packages start at $375.00
Business Booth Rentals
A photo booth at a business event is a great way to increase customer engagement!
A photo booth for a business event has a lot of options which are designed to make it more fun and to work with you for follow-up marketing. Our booths can include:
* Unlimited sessions and photos for everyone in the session.
* Green screen or extra wide background for groups.
* Social media posting
* Contemporary open air style with larger background
* Everyone in the photograph will receive their own photograph
* Picture layout selection
* Contest modes
* Surveys

If we are photographing the event the booth will be discounted. Visit Art's Photography to learn more about our event photography services.


All Day - Non-printing Social Media Only $300
5 Hrs with printing $475.
If you are out of the Wichita area please contact us to discuss delivery options.
Week Day Photo Booth Rental Discounts
Week day photo booths rentals are not limited to business events. With our ability to brand a photo booth we are a good fit for trade shows and conventions. We have two hour packages starting as low as $275, We also have day long rentals available. Each event is different so please contact us to discuss your event.

Not in Wichita? No problem. We can still work with you.
Non-profit and Military Discounts
We offer special pricing for our service people, and non-profit organizations. The amount of the discount varies based upon the event time and complexity of the package

Please contact us to learn more.
Are you working on a fund raiser? We have ways that a photo booth can help you with your fund raising goals. Please tell us about your event and we will work with you to come up with ideas.
Event Photography Services
We offer a variety of event photography services, This includes instant portraits, or pop-up studios, as well as group photography with on-site printing up to 8x12. Contact Us
Specials and Discounts
When ever possible we offer military discounts and discounts to schools and charities. Contact Us
Booth Planning
A photo booth for a wedding will be different than a graduation or birthday party. We will work with you to custom design a package. Contact Us