Booth Rental Specials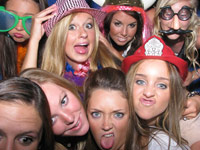 We will be competitive. If another photo booth rentor can match our features and offer a better price we will find a way to improve on their deal. Our booths use high speed printers, digital cameras, and studio style lighting for maximum quality. Our regular booths do not use cheap web-cams or weak lighting just because they are easier for us. Our printers are high speed and industry standard and the background you select will be professional quality. When we say quality is our goal we are serious..

If your event is smaller we may be able to work with you for a discounted package. The best thing you can do is to contact us.
Graduation Parties
Are you looking for a Photo Booth for a Graduation Party?
This is the time of year when people are planning graduation parties and you are at the right place. We have photo booth packages which range from a full featured booth to a smaller un-attended booth. We can help you determine which one is best for your graduate and that will fit into your budget.
The best thing to do is to
contact us
so we can build a package for you.. Two hour packages start at $289.00
Business Rental
Increase Customer Engagement
* Unlimited sessions and photos for everyone in the session.
* Green screen or extra wide background for groups.
* Social media posting
* Contemporary open air style with larger background
* Everyone in the photograph will receive their own photograph.
* If we are photographing the event the booth will be discounted. Visit Art's Photography to learn more about our event photography services.


All Day - Non-printing Social Media Only $300
5 Hrs with printing $450.

Week Day Photo Booth Rental Discounts
Week day photo booths rentals are available for as low as $275 for two hours. We will work with you to create a special package. The daytime package price varies based upon event size and special features that you need.

Contact us to create a unique package for your event.
Non-profit and Military Discounts
We offer special pricing for our service people, and non-profit organizations. Please contact us to learn more.
We will work with you to use a photo booth for your fund raising needs. (Contact Us)
Event Photography Services
We offer a variety of event photography services, This includes instant portraits, or pop-up studios, as well as group photography with on-site printing up to 8x12. Contact Us
Specials and Discounts
When ever possible we offer military discounts and discounts to schools and charities. Contact Us
Booth Planning
A photo booth for a wedding will be different than a graduation or birthday party. We will work with you to custom design a package. Contact Us