---
---
Professional Photo Booth
Photo Booth Rentals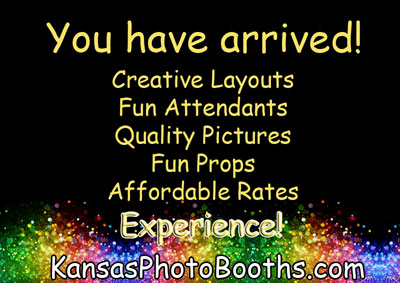 We have been in business since 2008. This makes us one of the most experienced photo booth companies in the Wichita area. We have special ideas for events such as weddings, corporate events, birthdays, parties, and fund raisers. If your event is business related we have ideas to help encourage participation and follow-up marketing.
Not every event is the same and we realize that. As we learn more about your event we will make recommendations on backgrounds, graphics, and custom prop packages which will compliment your theme. We can incorporate graphics from your invitation or flyer. We are all about creating an entertaining photo booth for your guests.

Picture quality is important to us. Even our mirror booth was designed for better picture quality by moving the mirror off the floor for a better camera angle. Our mirror booth has a more complementary angle for your guests and does not photograph the ceiling. This attention to detail is just one of the ways that we work to make sure we create the memories you want.
We want to be a part of your event and will work with you to create an experience for your guests which shares your attention to planning. From Wichita to Oklahoma City we have a package for you.
---
From the Kansas Photo Booths
Video Channel
Event Photography Services
We offer event photography of all kinds, This includes instant portraits, or pop-up studios, as well as group photography with on-site printing up to 8x12. Learn More
Specials and Discounts
We offer military discounts and discounts to schools and charities. Learn More
Booth Planning
A photo booth for a wedding will be different than a graduation or birthday party. We will work with you to custom design a package. Contact Us