Professional Photo Booth
Photo Booth Rentals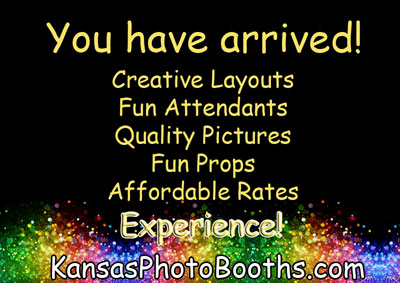 Wichita's one-stop shop for photo booths and instant portraits.
We are the perfect addition to weddings, birthday parties, corporate events, graduations, fund-raisers, and your event. Our photo booths have many fun features and we can customize the graphics just for your event.
Our mirror booth is designed for better picture quality. It sits off the floor and captures full length photographs. This is just one of the ways that we work to make sure we create the kind of memories you want.
We want to be a part of your event and will work with you for a unique creation.
Digital Cameras
We believe in quality.
Our photo booths use digital cameras and studio style lighting so you and your guests have great photographs.
A digital camera can do a lot more to give you the quality that you want than a cheap webcam.
Flexible Print Layouts
The typical print size is a 2x6 size print. We also offer 2x8, 4x6, 5x7, and 6x8. Your guests can even select the print layout that when the session starts.
See Examples
Unique Booth Options
We have some booths like you have probably seen as well as booths made from 70 year old cameras and a unique mirror booth. We are always looking for something unique to offer.
background Choices
We have hundred of digital files available for our green screen option as well as many cloth and metallic backgrounds. We can also work with existing light to capture the event behind your guests.
Trained Attendants
Our attendants are trained to work with your guests to make sure they have a great selection of props and that the camera is adjusted for height. Their goal is fun and quality.
Social Media
Many photo booths offer social media. Very few will have a 6x4 print format with their photo booth. This format looks better when viewed online, has larger pictures for your guests, and can be easily printed. Examples
Kansas Photo Booths Video Channel
Event Photography Services
We offer event photography of all kinds, This includes instant portraits, or pop-up studios, as well as group photography with on-site printing up to 8x12. Learn More
Specials and Discounts
We offer military discounts and discounts to schools and charities. Learn More
Booth Planning
A photo booth for a wedding will be different than a graduation or birthday party. We will work with you to custom design a package. Contact Us