Frequently Asked Questions About Photo Booth Rentals
Please feel free to use our Contact Form or call us at 316-755-2787.

What are my photo booth background options?
We have access to hundreds of cloth backgrounds as well as over 1,000 green screen backgrounds.

Our Venue is small and we are not sure that we have space.
Our open air booths are a great option when space is tight. An open air booth only needs a 3x5 area.
We want the enclosed booth in white. Can you do that?
Yes, we have several curtain color options.
What is a scrapbook?
When you have a scrapbook we print an extra print of each both session. We will then either put it in the scrap book for your guests and encourage them to leave you a message or we will direct them to your scrap bok so we can place it in there themselves. We provide all the necessary tools for them to write a special note next to their photo strip.  This includes a nice display, special scrapbook pens, glue, stickers, etc. If you supply the scrap book the cost is $40. If we provide the scrap book the cost is $70. We also have a premier scrap book which does not use glue to attach the photographs.
What is hashtag printing?
With hashtag printing your guests can upload their own photographs and then print them at the event. Please contact us to learn more about this new service.
Can the booth be setup outside?
Yes the photo booth can be set up outside. We can bring a generator if you do not have electricity. Another consideration is outside temperature. Our booths are computerized and computers do not do well above 90'. Our steel kiosks are very wind resistant so please let us know where you want to have your photo booth.
Do you charge mileage?
Our mileage charges vary based upon distance. If your photo booth rental is within 50 miles of Wichita there are no travel fees. For most rentals it is $15 an hour travel time after the first hour. If you are out of the Wichita area the best thing to do is to contact us. If we already have a booth going to your city we may be able to waive and travel fees for both events.

If we are also covering the event the travel fees may be waived. If you have an event please visit Art's Photography to see other services. We commonly travel for such events as class reunions, weddings and corporate parties. Our regular photography services specializes in on-site printing capability for events as our photo booth uses.
How many people can fit inside the photo booth?
Since our booths can go from 4' to 10' wide the answer to this question is that it depends upon the size of the booth. Smaller booth setups accommodate 3-5 people while larger ones can easily accommodate 12 people. The current record is 18.
I have heard that webcams are not as good as regular cameras. Is that true?

Yes, that is true. That is why our photo booth packages use cameras which were built for taking pictures and lights which were made for lighting groups of people.
How well does green screen work?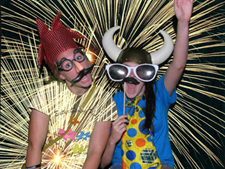 The green screen is fun and makes each photo set unique. Is it perfect? No. Green screen** is affected by room light, the size of the booth, and especially what people are wearing. Looking at this example you can see how someone with a green shirt can appear in a photo booth using green screen.
There is really nothing we can do to prevent this. From our perspective this is simply a part of the fun of the event. If the event is a formal fund raiser or perhaps the crowd is expected to be older you may want to consider not having a green screen.
Can you remove photographs from the slide show?

Yes. What we have to do is to delete them from the photo booth computer and then restart the computer browser which is running the slide show. For the record, we have never had to do this, but we can.
Can we supply our own props?
We encourage you to bring along any special props that your guests may enjoy taking pictures with. Props that suggest inside jokes are always fun way to make the photographs more fun. We will watch your props as carefully as we do our own. We can not be responsible for losses or breakage..
What if the guests would like additional prints?
Yes. We will print a copy of the photo booth session for each couple. If requested, we will print additional copies.
Please keep in mind that you will receive a CD/DVD of all images taken at the event as well all the photos that were printed.
Will there be someone at the event to maintain the photo booth?
Yes. Our attendant will work with your guests to invite them to the booth.
Will you publish our photos on the internet?
This is your call. Some people want us to and others do not. Just let us know. We have also started publishing a video slides how on our Facebook page.
Do you provide props?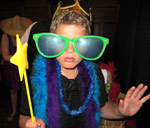 Yes, we bring a selection of props to every event. This includes colored hats, boas, toys, signs, etc.
Are the props child friendly?
We strive to bring props that are child friendly. Our attendant will also strive to make sure that any props are age appropriate for the children.
How much time is needed to set up the photo booth?
One hour is most common. If needed, we can setup some of our booths more quickly.
Is the photo booth wheelchair accessible?
Yes.
 Will the photos fade over time?
We can not guarantee print durability. However, we use name brand printers and do not cut corners on supplies. The prints will be fade resistant. According to the printer manufacturer they are "expected to last 100 years under proper conditions."
 Do we really get unlimited sessions?
Yes. Depending upon how many pictures are done in each session you will get approximately 45 sessions an hour. Each person in the photograph can have their own copy.
How long of a rental do I need?
In a typical hour the photo booth will be used for 45 sessions. Many sessions will have four or more people. Generally speaking we suggest starting about 30 minutes after dinner starts and ending about an hour before the end of the reception.
Can we have the photo booth shut down for an hour or two during the event?
The booth can set idle for an additional charge of $30 an hour. Sorry, but we can't ask our staff to not be paid while they wait.
Do you offer any discounts?
We have discounts available for military, non-profit, and last minute bookings. If you are using other services from Art's Photography there are additional discounts. Take a look at our specials page to learn more.
What if I need to cancel or change dates?
There is never a charge for a date change if done within 30 days of the rental date. If you need to cancel your order entirely, any money paid as a retainer may be forfeited. We want to be reasonable on this. The only time we will keep the retainer is if all of our photo booths were booked for that date and we turned down bookings. If we re-fill that date you will receive a 100% refund.
What if the booth breaks down during the event?
Our on-site attendant will work as fast as possible to resolve any issues. We often have backup equipment at the event. Should there be an excessive down time a partial refund will be granted. Please see the rental agreement for details. If for some reason we lose printing ability guest will be able to go to a site where they can download images for free and you will receive a partial refund.
Do You regulate how often people visit the photo booth?
We have sometimes seen kids go through the booth multiple times with no change and by themselves. They often make it a game to see how many times they can go through. We will sometimes ask them to wait awhile to let more people get through the booth or ask them to bring a someone with them to share the fun.
Do you have insurance?
Yes. We have liability insurance. Most event venues will ask you or us about this, but no worries, we are covered.
How long do prints take?
Once you photo booth session ends you can exit the photo booth and let the next guests' position themselves.
Your print will start printing automatically with in 20 seconds of you exiting the booth. The print comes out completely dry and ready to view.